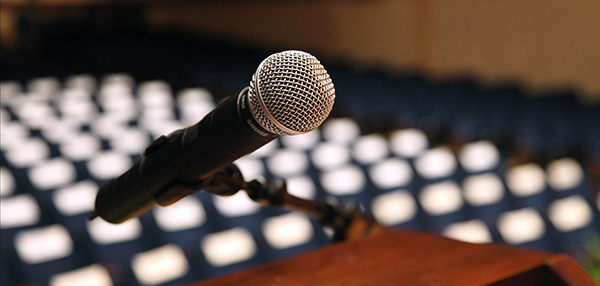 The March 2018 public comment session will be held in Ballroom A of the Burney Center at the University of North Carolina Wilmington following the Board's March 23rd meeting. The public comment session will begin after the BOG meeting adjourns. Individuals who wish to speak during the public comment session must register in advance using the web form. Call 919-962-1000 if you require assistance with online sign up. (Sign-ups for March have closed.)
A maximum of 15 speakers will be permitted to speak during the public comment session. Speakers will be scheduled in the order of sign-up on a first-come, first-served basis. If more than 15 speakers register, preference will be given to first-time speakers.

Each speaker will be allocated a maximum of three (3) minutes.

The time remaining for each speaker's remarks will be clearly displayed by a timing device within the meeting room. A University staff member will indicate when a speaker's time has expired, and the next speaker will be invited to begin.

Only one speaker will be permitted to speak at a time.

Speakers may not combine or transfer their time allocations. Unused portions of individual allotted time may not be yielded to other speakers.

Speakers are asked to address topics relevant to the Board of Governors.

Speakers must be physically present to address the board. Speakers will not be permitted by telephone or videoconferencing technology.

Speakers will not be provided use of audio/visual presentation equipment during their remarks.

Reserved seating will be provided within the meeting room for up to 15 speakers. Meeting attendees other than selected speakers may occupy additional seating within the room as available.

Attendees may not occupy seating that is reserved for Board members, staff, special meeting attendees, or members of the news media.

The public comment session will be video recorded, and the news media will be allocated space to observe and record the meeting.

Attendees who wish to provide written remarks will have an opportunity to deliver those materials to designated University staff during the public comment session. Additionally, comments and questions can be submitted to public@bog.northcarolina.edu.
Response to May 2017 Public Comments
Response to March 2017 Public Comments
Response to January 2017 Public Comments
Response to September 2016 Public Comments
Response to July 2016 Public Comments
Response to May 2016 Public Comments
Expectations of Decorum at UNC Board of Governors Public Comment Sessions

The UNC Board of Governors encourages members of the University community and the general public to participate in regular public comment sessions provided by the Board. To ensure fair access for a diversity of voices and to promote open dialogue on University issues, these sessions will follow longstanding guidelines for public meetings and democratic forums.
All members of the public are welcome to attend, but speakers will need to register prior to the start of the meeting. This allows the Board to set aside appropriate time for public comment, and allows speakers adequate notice to prepare public remarks. Comment sessions may be limited due to overall time constraints, but every reasonable effort will be made to facilitate full discussion of University issues.
The Board welcomes differing viewpoints, and meeting guidelines will be observed in order to ensure that speakers can share their comments.
Speakers will be given a set period of time to address the Board, ensuring that all registered speakers are afforded equal access. Speakers may not threaten or defame anyone in the course of their remarks, nor engage in profane or vulgar speech. Robust presentation of issues is encouraged, but personal attacks not permitted.
Any attendee who fails to abide by these basic rules of public gatherings — by depriving others of the opportunity to speak, obstructing public business, or otherwise preventing a fair and orderly comment session — is subject to arrest and prosecution under North Carolina law.
Freedom of speech is a cherished right, but intentional disruption of public business is not. Public comment sessions will respect that fundamental distinction.