Impact
The economic impact analysis studied the UNC system's 16 university campuses and its medical operations affiliated with UNC-Chapel Hill and East Carolina University*. While universities have an important impact on the students they serve, they also supply employers with productive workers and support the state's economy through employee, student and visitor spending. The economic impact analysis is categorized by the following impacts:
Operations spending
UNC universities are important employers in North Carolina, and faculty and staff payroll is part of the state's overall income. Employee spending for groceries, apparel, and other personal expenses helps support state businesses. These expenses create a ripple effect that generates still more jobs and income throughout the economy. The universities themselves purchase supplies and services, and many of their vendors are located in North Carolina.
Clinical Spending
Clinic expenditures were used to employ thousands of workers to further the teaching missions of UNC universities and provide state-of-the art patient care. Clinics and hospitals related to the UNC system include:
East Carolina University Division of Health Sciences
North Carolina Memorial Hospital
North Carolina Children's Hospital
North Carolina Woman's Hospital
North Carolina Cancer Hospital
North Carolina Neurosciences Hospital
Pardee Hospital
Research Spending
Research and innovation plays an important role in driving the North Carolina economy. Research activities of UNC universities impact the state economy by employing people and making purchases for equipment, supplies, and services. They also facilitate new knowledge creation throughout North Carolina through inventions, patent applications, and licenses.
Business Start-Ups
UNC universi­ties create an exceptional environment that fosters innovation and entrepreneurship that may potentially lead to developing companies that would not have existed in the state but for the presence of UNC universities. These companies are categorized according to the following:
Start-up companies: Companies cre­ated specifically to license and com­mercialize technology or knowledge of UNC universities.
Spin-off companies: Companies cre­ated and fostered through programs offered by UNC universities that support entrepreneurial business development, or companies that were created by fac­ulty, students, or alumni as a result of their experience at UNC universities.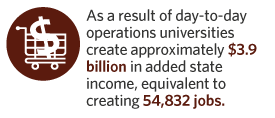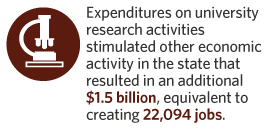 Extension Spending
The North Carolina Cooperative Extension Ser­vice is a partnership between North Carolina State University and North Carolina A&T State University. Its purpose is to provide education and technology to help address the needs and local problems of North Carolina's diverse com­munities and serves all of North Carolina's 100 counties.
Student Spending
UNC university students spend money at state businesses for personal expenses, accommodations and transportation. This spending creates a ripple effect that generates still more jobs and income throughout the economy.
Visitor Spending
In addition to out-of-state students, thousands of visitors come to UNC universities to partici­pate in various activities, including commence­ment, sports events, and orientation.

Construction Spending
UNC universities spend millions of dollars on construction each year to maintain their facilities, create additional capacities, and meet their growing educational demands. While the amount varies from year to year, these quick infusions of income and jobs have a substantial impact on the state economy.
Alumni Spending
The greatest economic impact of UNC universities stems from the added human capital – the knowledge, creativity, imagination, and entrepreneurship – found in their alumni. While attending UNC universities, students receive experience, edu­cation, and the knowledge, skills, and abilities that increase their productivity and allow them to command a higher wage once they enter the workforce.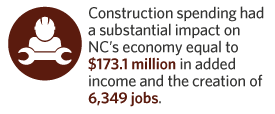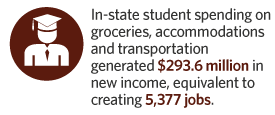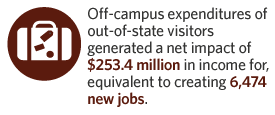 NC Higher Education Institutions

NCHE Institutions Full Report
Demonstrating the collective value of NC Higher Education.

NCHE Executive Summary
High-level details from the full report.

NCHE Fact Sheet
Significant data and charts from the full report.
University of North Carolina System


UNC System Full Report
Demonstrating the collective value of the UNC System.

UNC Executive Summary
High-level details from the full
report.

UNC Fact Sheet
Significant data and charts from the full report.

Data Infographic
A quick, easy illustration of main data points.