The late Leo W. Jenkins, who led East Carolina University from 1960-1978, and Chapel Hill businessman and philanthropist Thomas S. Kenan III are the 2014 recipients of the University Award, the highest honor given by the Board of Governors of the 17-campus University of North Carolina.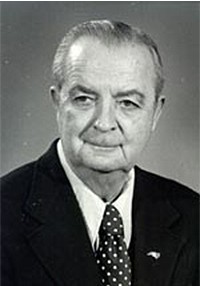 Leo W. Jenkins
UNC President Tom Ross and Board of Governors Chairman Peter Hans presented the awards, which recognize illustrious service to higher education in North Carolina, during a banquet Thursday evening (April 10) on the UNC-Chapel Hill campus.  Jenkins' youngest son, Superior Court Judge Jack Jenkins of Morehead City, accepted his father's award on behalf of the Jenkins family.
During the evening, tributes to Jenkins and Kenan were offered by ECU Chancellor Steve Ballard and UNC School of the Arts Interim Chancellor James Moeser.
A New Jersey native and decorated World War II veteran, Leo Jenkins was recruited to North Carolina in 1947 to serve as dean of instruction at East Carolina Teachers College, now known as East Carolina University.
Over the next three decades, Jenkins led ECU's transformation from a teacher's college to a university, strengthened every facet of its academic programs, enhanced its athletic programs, and presided over phenomenal growth in the size of the student body, faculty, facilities, and campus footprint.
During Jenkins' tenure, ECU's strong programs in education were joined by emerging programs in business, the fine arts, the sciences, and the health sciences.  Graduate programs followed. Along the way, Jenkins firmly established ECU as the focal point for progress in the East and pushed relentlessly for more equitable distribution of state resources for the region.  To that end, he spearheaded the long and sometimes contentious campaign to have a four-year medical school established at ECU.  The advances in medical care his efforts made possible and the educational transformation he facilitated not only changed the face of the institution, but also altered the economic future of eastern North Carolina.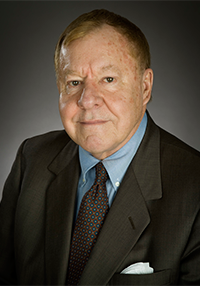 Thomas S. Kenan, III
High resolution version.
Few families have been so intertwined with the long history of the University of North Carolina as the Kenans.  In 1793, James Kenan became a founding trustee of university at Chapel Hill, and for more than two centuries, Kenan family members have continued to support faculty, programs, and facilities across the Chapel Hill campus and UNC system. Today, Tom Kenan is one of the University of North Carolina system's most generous and loyal supporters.
Kenan, who holds a degree in economics from UNC-Chapel Hill, is vice chairman and director of Flagler System, Inc.  In addition to his extensive business operations, he serves as a trustee or officer for the Kenan Family Foundation; William R. Kenan Jr. Charitable Trust; William R. Kenan, Jr. Fund for the Arts; William Kenan, Jr. Fund; William R. Kenan, Jr. Fund for Engineering, Technology and Science; William R. Kenan Fund for Ethics; Thomas S. Kenan Foundation; Randleigh Foundation Trusts; Mary Duke Biddle Foundation; Semans Art Fund; Duke Endowment; and ARTS North Carolina.  He founded the Thomas S. Kenan III Foundation.
A tireless advocate for education, the arts, and history in North Carolina, Kenan has been a devoted volunteer and benefactor to many institutions of higher education in the state, including several UNC campuses.
At UNC-Chapel Hill, he has supported the Wilson Library and its Southern Historical Collection, the renovation and performance program endowment  of Memorial Hall, as well as the Department of Music, where he established the Kenan Music Scholars Program.  He has served on the UNC-Chapel Hill Board of Visitors, the Kenan-Flagler Business School's Board of Visitors, the Arts and Sciences Foundation Board of Directors, the Advisory Board of the Institute for the Arts and Humanities, and the Ackland Art Museum Visiting Committee.
In the 1960s, Kenan was a strong and convincing advocate for the creation of the North Carolina School of the Arts (now the UNC School of the Arts).  He served on UNCSA's board of trustees from 1969-85 and continues to serve as an honorary trustee.  A member of its Board of Visitors since 1985, he also is a member of UNCSA's Giannini Society and Founders Society and served for many years on the UNCSA Foundation board.
At North Carolina State University, Kenan has supported a wide range of academic and scholarship programs, including the William Rand Kenan Jr. Library of Veterinary Medicine, William R. Kenan Jr. Memorial Scholarship in the College of Veterinary Medicine, Frank Hawkins Kenan Kenan Professorship of Chemical and Viomolecular Engineering, University Faculty Scholars Program, and William R. Kenan Jr. Institute for Engineering, Technology and Science.   He has been particularly involved in the Institute's Kenan Fellows Program, a competitive scholarship and research fellowship open to K-12 public school teachers across disciplines.
In addition, UNC Wilmington's chancellor's residence, Kenan House, was recently restored under Kenan's guidance and support.
UNC-TV presents a video profile of the life of Leo Jenkins.