The summary below highlights selected actions taken by the UNC Board of Governors during its August meeting.
For a full account of board proceedings and meeting materials, please check the board meeting archive.
Campus Security Initiative
The final report of the 2014 Campus Security Initiative was presented to the Board during the Policy Discussion portion of this month's meeting. Established by President Ross in fall 2013,the Initiative involved people from every UNC campus –police officers, student affairs staff, counseling and health professionals, attorneys, faculty, administrators and students.  The report emphasizes the University's commitment to campus safety, especially in areas of sexual violence, campus security, and alcohol and substance abuse.
The 120-page report includes 26 findings and 36 recommendations that will help make UNC campuses safer, ensure the University is meeting both the letter and the spirit of laws governing campus security, and offer a blueprint for continuous improvement.
View the Campus Security Initiative Final Report.
Financial Aid "Freeze and Cap"
A Board of Governors Working Group on Financial Aid and Tuition was asked to examine need-based aid available to UNC students, the feasibility of establishing a maximum percentage of tuition revenues that may fund need-based aid, other potential revenue sources for need-based aid, and ways to ensure that needy students receive assistance.
On the working group's recommendation, the Board of Governors voted to end the practice of linking tuition increase revenue to need-based financial aid and implemented a "Freeze and Cap" proposal. Under the proposal, no more than 15 percent of base tuition revenues may be used to fund need-based financial aid. Campuses that currently designate more than 15 percent of base tuition revenues for need-based aid are "frozen" at their current dollar levels and may not set aside additional tuition revenues for this purpose until future increases in tuition bring the proportion below 15%.  Campuses still below 15 percent may increase funds for need-based aid from tuition revenues so long as the total set aside for aid does not exceed the newly implemented cap.
Learn more about the "Freeze and Cap" proposal.
Four-Year Tuition Plan
The University's current Four-Year Tuition Plan extends through the 2014-2015 academic year. The Board adopted a new four-year plan for 2015-19 that caps annual tuition increases for resident undergraduate students at 5 percent, a reduction from the current plan's 6.5 percent cap.  The 5 percent cap could be adjusted depending on the annual change in state appropriations per resident FTE, if inflationary or fixed costs prove higher than anticipated, or if extraordinary circumstances impact a campus or the system.
Learn more about the Four-Year Tuition Plan.
Grant Named Chancellor of the University of North Carolina at Asheville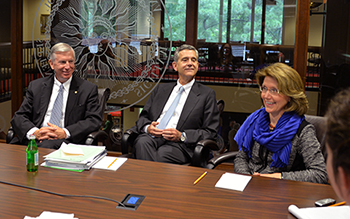 The Board of Governors elected Mary K. Grant chancellor of UNC Asheville, effective January 5, 2015. She will succeed retiring Chancellor Anne Ponder.  UNC President Tom Ross also announced that Doug Orr, president emeritus of Warren Wilson College, will serve as interim chancellor beginning September 1, serving until Grant arrives.
Learn more about UNC Asheville's new chancellor.
2014 UNC Transfer Student Report
The 2014 Transfer Student Report was presented to the Committee on Educational Planning, Policies, and Programs. The report provides information regarding the undergraduate transfer student population, including enrollment trends, demographics, student majors, as well as initiatives focused on this student population.
Statistics highlighted in the report include: 28 percent of all undergraduate students are entering UNC institutions as transfer students; more than half of all transfer students come from the NC Community College System; and those who transfer with an AA/AS degree and declare majors during the transfer process are enjoying higher rates of success at UNC institutions.
View the 2014 UNC Transfer Student Report.
2014 State Budget and Legislative Update
The state budget Conference Report outlined the outcomes of UNC's legislative budget priorities.
An overview of University appropriations includes:
Provides a SPA increase of $1,236 salary and benefits, and $5 million for pay raises for exempt employees to be administered by the Board of Governors.
Increases UNC's management flexibility cut by $2.4 million to $76 million for 2014-15.
Funding for Strategic Directions, providing $3 million for "game-changing" research in areas such as manufacturing, defense and the military, energy and marine and coastal sciences.
Waives tuition for up to three classes for UNC faculty and staff.
Other conference outcomes include:
University tuition study to be conducted by Joint Legislative Education Oversight Committee.
Board of Governors out-of-state tuition flexibility.
Learn more about the 2014 state budget.
Strategic Plan Implementation Update
The University's Strategic Plan calls for quarterly meetings to submit detailed reports and discuss updates on the plan's status and progress.
View the April-June 2014 Strategic Directions Dashboard Report.
New Degree Programs
The board approved the establishment of the following degree program:
North Carolina Central University: Bachelor of  Science (B.S) in Computer Science and Business degree program
Learn more about new degree programs.
The Board approved the discontinuation and consolidation of the following programs to form a new B.A. program, Foreign Language and Literature, at NC State University.
B.A. in French Language and Literature
B.A. in Spanish Language and Literature
B.A. in French Language and Literature, Teacher Education
B.A. in German Studies
B.A. in Spanish Language and Literature, Teacher Education  
 Learn more about new degree programs.
At the request of Western Carolina University, the Board also approved the discontinuation of the following program:
MAEd in Community College Administration