CHAPEL HILL, NC – Mary K. Grant, president of the Massachusetts College of Liberal Arts since 2002, has been elected chancellor of the University of North Carolina at Asheville by the Board of Governors of the 17-campus University of North Carolina.  UNC President Tom Ross placed Grant's name in nomination today (August 1) during the board's regular August meeting.  Grant, 53, will assume her new duties January 5, 2015, succeeding Anne Ponder, who announced in January that she would retire this summer after nine years in the post.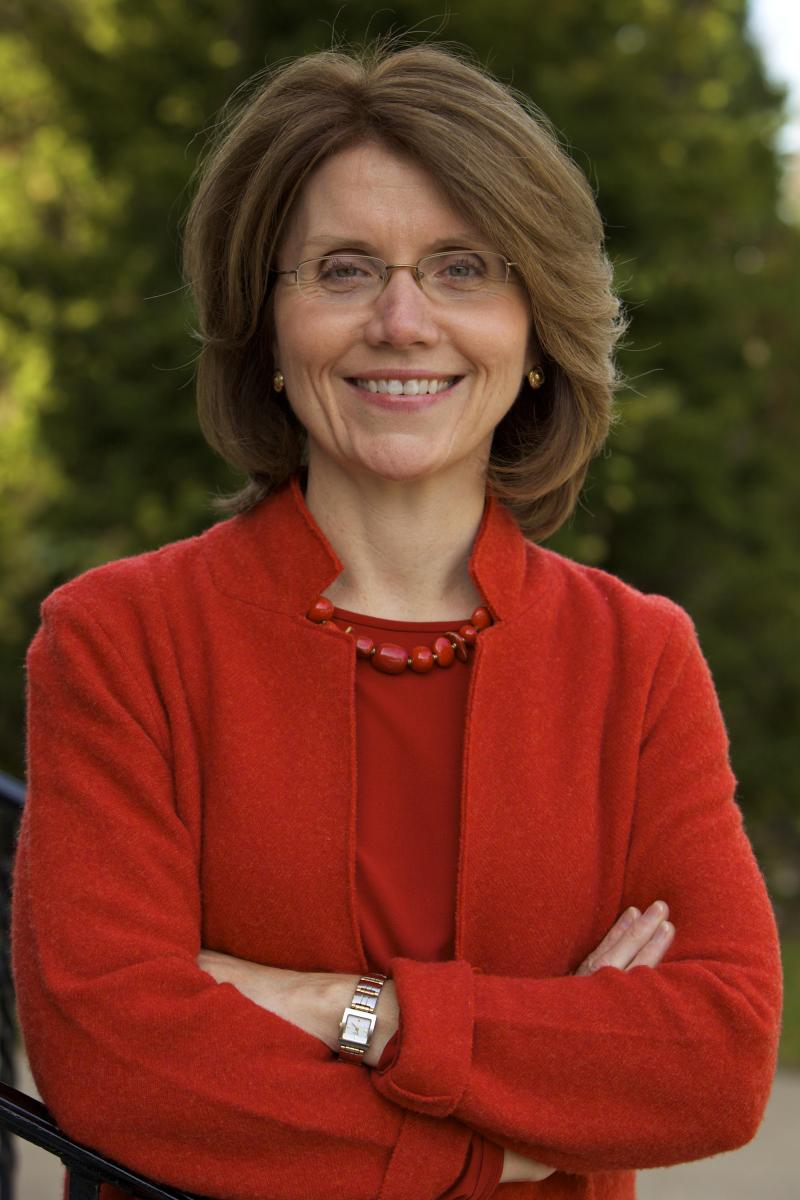 Mary K. Grant
High resolution version.
Also today, Ross announced that Doug Orr, president emeritus of Warren Wilson College, will serve as interim chancellor of UNC Asheville beginning September 1, serving until Grant's arrival.
In recommending Grant to the Board of Governors, Ross said:  "Mary Grant brings to UNC Asheville almost 25 years of academic and leadership experience at two highly respected public universities, a solid reputation as an energetic and creative problem solver, and a passionate belief in the enduring value of liberal arts education.  Throughout her career, she also has made community involvement a key priority and proven herself to be an engaged and effective leader who promotes openness, collaboration, and strategic thinking. We are most fortunate to gain a leader with this wealth of talent, enthusiasm, and commitment."
Massachusetts College of Liberal Arts (MCLA) is the designated public liberal arts college in the Commonwealth of Massachusetts.  Located in North Adams, it offers 19 undergraduate majors and more than 50 programs of study. Graduate programs include a master of education and a professional MBA. Recognized by U.S. News & World Report as one of the nation's top-ten public liberal arts colleges, MCLA has also been named to the President's Honor Roll for Service by the Corporation for National and Community Service.  Like UNC Asheville, it is a member of the Council of Public Liberal Arts Colleges, a national consortium working to advance and promote the mission and distinctive role of the liberal arts in public education.
A Massachusetts native, Grant is one of six children and the first in her family to complete a four-year degree.  After graduating from North Adams State College (now MCLA) in 1983 with an undergraduate degree in sociology, she earned a master's degree in public affairs from the McCormack Institute of Public Affairs (now the McCormack Graduate School of Public Policy) at the University of Massachusetts, Boston (1986) and a doctorate in social policy from the Heller School for Advanced Studies in Social Welfare at Brandeis University (2000).
Grant began her higher education career in 1990 as a research associate at UMass Boston.  Over the next decade, she taught graduate-level courses in the McCormack Institute and held several key administrative positions, including Director of the Center for Social Policy (1992-94) and Assistant Vice Chancellor for Administration and Finance and Human Resources (1994-2000).  In 2000, she served as chair of the Institute's faculty.
That same year, Grant was recruited to serve as Deputy CEO and Chief Academic Officer for the team charged with launching UMassOnline, a new system-wide program of professional and online education.  In those roles, she led the selection of the first learning management platform, coordinated system campus involvement, and developed strategies for addressing programmatic and policy issues that would impact the development and delivery of online programs. She remained in those posts until 2002, when she was named President of MCLA.
As MCLA President, Grant has led the college through a sustained period of growth and advancement.  During her 12-year tenure, she is credited with increasing student enrollment, developing new academic programs responsive to regional needs, investing in undergraduate research, significantly increasing private giving, and improving campus facilities.  Under her leadership, MCLA also has intentionally become a more integral part of the surrounding community and expanded service learning opportunities for students.  To that end, she established the Berkshire Compact for Education, a county-wide initiative that serves as a model for regional collaboration.
A passionate advocate for public higher education and civic engagement, Grant received the New England Board of Higher Education's 2014 Massachusetts State Merit Award. In 2011, she was honored with the American Council on Education's Massachusetts National Network of Women Leaders Lifetime Achievement Award, as well as the Frances H. Hayden Award from the Berkshire Chamber of Commerce.  In addition, she was the 2010 recipient of the Council for Advancement and Support of Education's District I Executive Leadership Award and holds an honorary doctorate form Williams College.
In recent years, Grant has served as chair of the Council of Presidents of the Massachusetts Statewide University System; chair of the board of the Massachusetts Campus Compact; and President of the Council of Public Liberal Arts Colleges.  She currently serves on the boards of the national Campus Compact,  Massachusetts Campus Compact, Commonwealth Covenant Fund, MassINC, Norman Rockwell Museum, and John Adams Innovation Institute, among others.
Grant is married to Jim Canavan, a management consultant and nonprofit leader.  He is a visiting associate professor at MCLA teaching public policy and financial management for nonprofits.
Following her election, Grant told the Board of Governors:  "I am honored to have been elected to serve as the next Chancellor of UNC Asheville. It is a particularly distinct honor to build upon the strong foundation and vision of Chancellor Ponder.  Over the last several weeks Jim and I have met so many committed, passionate, and talented individuals who care deeply about public higher education, the Asheville campus, the incredible community we will soon call home, and most importantly the students. To serve as the next Chancellor of this important, leading public liberal arts university is a privilege. My service as president of MCLA has been rich and rewarding and I am gratified that there are national ties through the Council of Public Liberal Arts Colleges, headquartered at UNC Asheville. I look forward to working with the Trustees, faculty, staff, students and members of the community and to the important work ahead with President Ross, the Board of Governors, and my fellow UNC chancellors." ​
The University of North Carolina
The oldest public university in the nation, the University of North Carolina enrolls more than 220,000 students and encompasses all 16 of North Carolina's public institutions that grant baccalaureate degrees, as well as the NC School of Science and Mathematics, the nation's first public residential high school for gifted students.  UNC campuses support a broad array of distinguished liberal-arts programs, two medical schools and one teaching hospital, two law schools, a veterinary school, a school of pharmacy, 11 nursing programs, 15 schools of education, three schools of engineering, and a specialized school for performing artists.  The UNC Center for Public Television, with its 11-station statewide broadcast network, is also under the University umbrella.
UNC Asheville
UNC Asheville is the designated liberal arts institution for the UNC system, offering students an intellectually rigorous education that builds critical thinking and workforce skills to last a lifetime. Enrolling about 3,700 students and offering more than 30 undergraduate majors and a Master of Liberal Arts and Sciences degree, UNC Asheville encourages students to take part in a nationally acclaimed undergraduate research program and participate in interdisciplinary learning that extends beyond campus into the vibrant City of Asheville and the surrounding Blue Ridge Mountains.  For more information, visit www.unca.edu.
###
UNC ASHEVILLE CONTACT:  Deborah Griffith, Associate Vice Chancellor, Communication and Marketing, UNC Asheville, 828.232.5066 or dgriffit@unca.edu.