CHAPEL HILL, NC – Junius J. Gonzales, provost and vice president for academic affairs of the University of Texas at El Paso since 2011, has been named senior vice president for academic affairs of the 17-campus University of North Carolina. The appointment, effective January 28, 2015, was announced today by UNC President Thomas W. Ross. Gonzales will succeed Warwick Arden, who has served as interim senior vice president since Suzanne Ortega stepped down July 1 to become president of the national Council of Graduate Schools.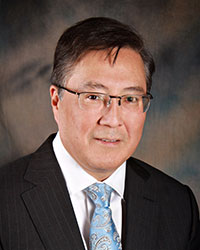 High resolution version.
As the University's top academic officer, Gonzales will be responsible for leading the UNC system's educational and research missions. In that role, he will advise the president and UNC Board of Governors on academic issues and policies of University-wide importance and will oversee academic planning and budgeting, student affairs, sponsored programs and research, faculty support, licensure and institutional research and analysis. He will also work closely with campus chancellors and chief academic officers on University-wide academic initiatives and help focus diverse campus missions to meet University and state goals and objectives.
Located in western Texas, the University of Texas at El Paso is one of the nation's leading minority-serving institutions. It enrolls more than 23,000 students in 70 bachelor's, 76 master's and 20 doctoral degree programs and is designated as one of the state's top emerging research universities. Earlier this year, Washington Monthly ranked UTEP first in the nation in the social mobility category for the third consecutive year, as well as 8th overall.
As UTEP's chief academic officer, Gonzales has spearheaded student success efforts to increase the number of students receiving degrees and decrease the time they take to earn them. He has supported revisions to the student advising system, developed online and blended learning initiatives, facilitated growth of early-alert interventions in large lecture courses, piloted new bridge and tutoring programs, and expanded undergraduate honors and research initiatives. These efforts have been facilitated by innovative applications of data and increased faculty involvement. In addition, he has developed new mechanisms to enhance the faculty's ability to pursue research and scholarship. During his tenure at UTEP, Gonzales has been principal investigator on grants totaling nearly $5 million.
A psychiatrist by training, Gonzales was born to poor Peruvian immigrants and became the first member of his family to attend college. After graduating from Brown University in Rhode Island (1980), he earned his medical degree at the University of Pennsylvania School of Medicine (1986), completed a residency at Massachusetts General Hospital and post-doctoral fellowship at the National Institute of Mental Health (1987-1993), and later earned an MBA at the University of Maryland's Robert H. Smith School of Business (2005). Over the course of his career, Gonzales has drawn on his clinical and research skills, business expertise and collaborative leadership style to make positive impacts in academia, government and the private sector.
Gonzales began his academic career in 1993 at Georgetown University, where he conducted research and served as deputy chair and director of clinical operations for the Department of Psychiatry. He then worked for the National Institute of Mental Health, serving as chief of the Services Research and Clinical Epidemiology Branch (1999-2005) and director of the Division of Services and Intervention Research (2005-06). In these roles, he helped institutions of higher education across the country build scientific capacity through research, mentoring, and training infrastructure initiatives. In 2005, he received the Secretary's Award from the Department of Health and Human Services for his ability to bring together diverse constituents for innovative partnerships.
In 2005, Gonzales was recruited to Cambridge-based Abt Associates, one of the world's 25 top-ranked research firms. As a principal investigator for its health division, he collaborated with other Abt divisions, especially the education practice, and teamed up with small businesses, corporations, academic institutions and international scientists to develop proposals for large federal master contracts and individual research projects. He directed projects funded by the National Institutes of Health, the Substance Abuse and Mental Health Services Administration, the federal Science and Technology Policy Institute and foundations.
Gonzales transitioned back into higher education in 2007, joining the University of South Florida as executive director of the Louis de la Parte Florida Mental Health Institute, a large behavioral health services research and training center. The following year, he was tapped to create and then lead USF's College of Behavioral and Community Sciences, bringing together five departments and schools within the institute. Under his leadership, the new college set an innovative, multi-disciplinary focus on blending science and scholarship that reached across colleges and engaged communities.  He left USF in 2011 to become the chief academic officer at UTEP.
Over the course of his career, Gonzales has secured more than $15 million in external funding as a principal or senior investigator. He has served on a number of national advisory panels and review teams for the Department of Health and Human Services, the National Institute of Mental Health, the National Institute on Drug Abuse, the Substance Abuse and Mental Health Services Administration, and the Agency for Healthcare Research and Quality.  Active in professional organizations, he serves on the executive committee of the Association of Public and Land Grant Universities' Council for Academic Affairs, continues to review for high-impact journals such as the American Journal of Public Health, and sits on the editorial board for the journal Health Services Research. A firm believer in giving back, Gonzales is also active in philanthropic endeavors and serves on several boards, including the United Way of El Paso. He is a former advisory board member of the International Centre for Missing and Exploited Children, among other organizations.
The oldest public university in the nation, the University of North Carolina enrolls more than 220,000 students and encompasses all 16 of North Carolina's public institutions that grant baccalaureate degrees, as well as the NC School of Science and Mathematics, the nation's first public residential high school for academically gifted students. The UNC Center for Public Television, with its 12-station statewide broadcast network, the UNC Health Care System, and the NC Arboretum are also under the University umbrella.
Friday, November 14, 2014