UNC President Thomas W. Ross today announced that Dana Dunn, provost and executive vice chancellor of the University of North Carolina at Greensboro, has been named acting chancellor of the university, effective immediately.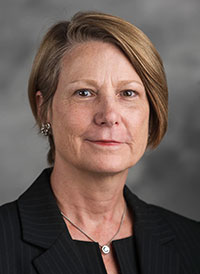 High resolution version.
Current UNCG Chancellor Linda Brady, who announced last fall that she would step down from the post in summer 2015, is recuperating from heart surgery and will be out on leave through June 30, the date on which her resignation as Chancellor takes effect.  A national search for Brady's permanent successor is well underway, and Ross hopes a new chancellor can be in place by July 1.
In announcing Dunn's appointment, Ross said: "UNC Greensboro is fortunate that Provost Dana Dunn has agreed to assume even greater responsibilities during this period of leadership transition.  Given her extensive administrative experience and service as UNCG's chief academic officer, she is exceptionally well qualified to assume oversight of the campus.  The university will be in very good hands, and I am grateful that she has accepted this critical assignment."
As UNCG's provost and executive vice chancellor, Dunn is responsible for curriculum and program development, the advancement of teaching, and the support of research and other scholarly and creative work in the academic community. She also facilitates the integration of academic affairs, student affairs, and research and economic development functions in support of the university's mission.
Dunn joined UNCG last year from the University of Texas at Arlington, where she had held a series of progressively responsible academic leadership and faculty roles over a 27-year period.  She led academic affairs at UT Arlington for eight years, first as vice president and later as provost. 
Dunn holds a B.A. in sociology and an M.A. degree in political economy from the University of Texas at Dallas. She earned her doctorate in sociology from the University of North Texas.