Five teams of students from across the University of North Carolina system, as well as Fayetteville Technical Community College, joined military and civilian representatives from the U.S. Army Special Operations Command (USASOC) and other U.S. Special Operations Forces commands to design 3D printed items that could potentially address military needs and challenges. Hosted by the University of North Carolina, sponsored by the U.S. Army Research Office (ARO), and organized and facilitated by Dr. Brandon Conover of Practical Scientific Solutions, Inc., the first-of-its-kind 3D printing competition was held over two days this March at FTCC's Spring Lake campus.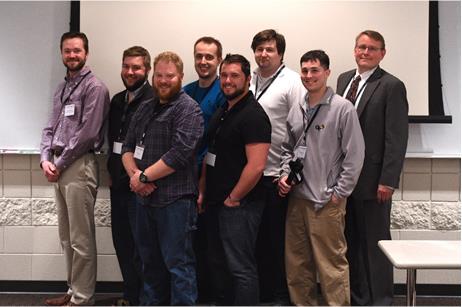 2015 3D Printing Competition Winners from left: Dr. Brandon Conover (Practical Scientific Solutions, Inc.), Henry Goodell (UNC Chapel Hill), Patrick Fain (UNC Charlotte), James Haig (UNC Charlotte), Nathan Lambert (UNC Charlotte), Eric Fleischhauer (UNC Charlotte), Anthony Brock (USASOC), Dr. Stephen Lee (U.S. Army Research Office).
Competition participants included eleven undergraduate and graduate-level students in biomedical engineering, mechanical engineering, industrial and systems engineering, and materials science programs from UNC Charlotte, UNC-Chapel Hill, North Carolina State University and North Carolina A&T State University.  Seven students in manufacturing and simulation and gaming programs at FTCC also participated. Teams were tasked with developing ideas and concepts for items that would be useful in a military operational environment, and for which 3D printing would offer an advantage.  
First place was awarded to a team of students from UNC Charlotte and UNC-Chapel Hill who designed an aerial resupply package that could deliver critical supplies such as ammunition, batteries, electronics or medical supplies to troops on the ground during a firefight. The package system, devised as a 3D printed lattice structure, would allow an aircraft to drop supplies from a higher, safer altitude and speed, protecting the contents inside the package and reducing the aircraft's risk as a potential enemy target. Additionally, the package structure could be printed just before a mission, tailored to the mission and supplies needed, and be made using biodegradable materials to be left behind in the field.
During the competition, representatives from the ARO, industry (3D Systems, Trimech and Concurrent Technologies Corp.), UNC system, and the military were on hand to offer insight and feedback on designs, applications, practical constraints, and certain other factors.  Once designs were finalized, teams began printing initial prototypes on one of three machines provided by 3D Systems for use during the competition. After incorporating changes based on functionality, scale, material and manufacturing, students could modify their design before presenting to a panel of judges made up of industry and Army representatives.
Together, teams created five innovative products to address military needs. Printed products included a custom-fit face mask to filter sand, dust, and other dangerous airborne particles; a lightweight, adjustable rucksack frame system to distribute weight evenly and comfortably; an emergency battlefield delivery system for dropping supplies from rotorcraft at a safe altitude and speed; a lightweight battlefield litter mounting bracket for light utility vehicles and other wheeled vehicles; and a modular battlefield traction splint system for stabilizing upper and lower extremity trauma.
The winning team participants were recognized with a coin from ARO Chief Scientist, Dr. Stephen Lee. The team is now working with 3D Systems on an advanced prototype.