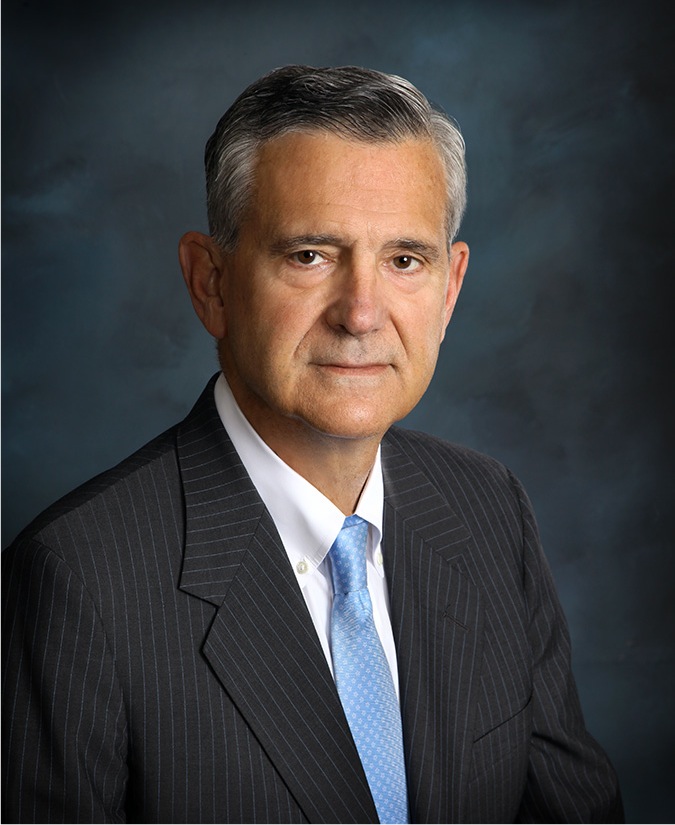 Charlotte attorney John C. Fennebresque has resigned his seat on the UNC Board of Governors, the policy-making body of the 17-campus University of North Carolina, effective immediately.
Vice chairman of the McGuireWoods law firm, Fennebresque, 68, first served on the Board of Governors from 1995 to 1999 and returned to board service in 2011.  Prior to being elected chairman of the Board of Governors in 2014, he chaired its Committee on Personnel and Tenure and also served on its Public Affairs Committee.  Earlier this year, Fennebresque was named by the NC General Assembly to a third four-year term that began July 1.
The current vice chairman of the Board of Governors, Asheville attorney W. Louis "Lou" Bissette, Jr., will assume the chairmanship until the board can elect a new leader, after a required 30-day waiting period.  Fennebresque's seat on the board will remain vacant until the NC Senate elects a successor to serve out the remainder of his unexpired term.
  High Resolution Photo Download
Fennebresque's last official duty as board chairman was presiding at a special October 23 meeting where Margaret Spellings, President of the George W. Bush Presidential Center in Dallas and former U.S. Secretary of Education, was unanimously elected to serve as the next President of the UNC system. Fennebresque acknowledged completing this important task in sharing his decision to step down.
"It has been my honor and privilege to serve on the UNC Board of Governors, and I am delighted we could bring in a nationally proven and accomplished leader to serve as the next President of this great University system," said Fennebresque. "Margaret Spellings has the experience, vision and courage we need to navigate the forces transforming higher education. She is skilled in working with education professionals and a variety of constituencies to bring people together, and she has expressed her strong desire to more vigorously focus attention on providing educational opportunities for all people."
Fennebresque added, "With the search completed, I believe now is the time for a fresh start for our University system and its 17 campuses, as well as for this Board of Governors.  So today I am stepping down from the Board to make way for and encourage new leadership. Significant challenges lie ahead for the system as it continues to provide the unparalleled education our students deserve. I want to thank the Board of Governors, my family and friends, my law firm and my many supporters who have rallied around me throughout the difficult process of change and the great promise of opportunity for the University of North Carolina system."
Ann Goodnight, co-vice chair of the board's Presidential Search Committee, said of Fennebesque, "Throughout the search process, John supported us so that we could do our best work. Empowering others to lead is an important characteristic of a true leader, and I thank John for it."
Fennebresque earned his undergraduate degree in history from UNC-Chapel Hill and holds a law degree from Vanderbilt University.  He has a long track record of noteworthy civic contributions in Charlotte, including board service with Habitat for Humanity, Queens College of Charlotte, the Mint Museum, and the United Way of the Central Carolinas.
"While John Fennebresque and I may have had our differences at times, he truly loves the University of North Carolina and has been a tireless, passionate advocate for it," said UNC President Tom Ross. "He has served the UNC system with great dedication and commitment." 
Fellow members of the Board of Governors echoed Fennebresque's dedication to the University.
G.A. Sywassink, chair of the board's Committee on Personnel and Tenure, observed:  "Our board has tackled big issues, with particular focus on issues important to the future of our system, including leadership recruitment and the selection and retention of high-quality faculty and University leaders. Committees responsible for this work received the complete support of John as committee chair and/or chairman. He advocated for us and tried to ensure that our work received the support of the full board."
Champ Mitchell, chair of the board's Strategic Planning Committee, added: "John Fennebresque accomplished much during his term. Most importantly, he initiated the hiring of a new President who has the ability to lead transformative change. Higher education in this country is going through substantial and often disruptive changes. Our University has no choice but to change how it delivers education and make it more affordable and more efficient."
The oldest public university in the nation, the University of North Carolina enrolls more than 220,000 students and encompasses all 16 of North Carolina's public institutions that grant baccalaureate degrees, as well as the NC School of Science and Mathematics, the nation's first public residential high school for academically gifted students.  UNC campuses support a broad array of distinguished liberal-arts programs, two medical schools and one teaching hospital, two law schools, a veterinary school, a school of pharmacy, 11 nursing programs, 15 schools of education, five schools of engineering, and a renowned arts conservatory.  The UNC Center for Public Television, with its 11-station statewide broadcast network, is also under the University umbrella.
For more information, contact Joni Worthington at (919) 962-4629 or worthj@northcarolina.edu