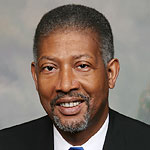 CHAPEL HILL – Stacey Franklin Jones, who has served as chancellor of Elizabeth City State University since October 2014, has resigned from the post, effective December 31, 2015.  Jones informed UNC President Thomas W. Ross of her decision this afternoon.
Thomas Conway, vice chancellor and chief of staff at Fayetteville State University, will serve as interim chancellor of the institution, effective January 1, 2016, said Ross. The UNC Board of Governors is expected to consider electing Conway to the position on a permanent basis at its regularly scheduled January meeting.
In announcing Conway's appointment, Ross said:  "Over a career that spans four decades, Thomas Conway has distinguished himself as a top-notch academic administrator.  His extensive experience, integrity, and sound judgment make him well qualified to provide strong leadership for ECSU during a critical time of change and beyond. Dr. Conway will bring needed stability and continuity to this important UNC campus, and I am grateful that he has agreed to serve."
Prior to joining Fayetteville State's senior leadership team in 2008, Conway served as dean of undergraduate academic programs at NC State University.  In that capacity, he worked with faculty and administrators across all colleges and departments to enhance the quality of the academic experience for NC State undergraduate students.
During his 32-year tenure at NC State, Conway also served as vice provost for enrollment management and services (2002-05), associate vice provost for the Division of Undergraduate Affairs (1998-2002); and director of the First Year College (1998-2000). He earlier served as a counselor in NC State's University Counseling Center, Trio Program director, director of the academic support program for student athletes, and director of recruiting and minority services for the College of Engineering. Conway holds an undergraduate degree in agricultural education and a master's degree in guidance and counseling from NC A&T State University and earned a Ph.D. in counselor education from NC State.
ECSU, which serves one of North Carolina's most economically disadvantaged regions, has faced a series of enrollment and financial challenges.  Over the past five years, headcount enrollment has declined by more than 50%, and state appropriations and tuition revenues have been reduced by nearly $10 million, or 21%.  Those losses would have been greater without $3 million of short-term stabilization funding provided by the 2015 General Assembly. Contributing factors have included the implementation of tougher UNC minimum admissions standards, state budget cuts throughout the recession, declining tuition revenues, and reputational challenges stemming from key operational deficiencies.
At the request of Interim Chancellor Conway, East Carolina University will assist ECSU and its leadership team by supporting collaborative system efforts to build greater capacity throughout ECSU's student support and operational units. Fayetteville State University, NC A&T State University, NC State University, and UNC Charlotte will provide supplemental assistance in collaboration with ECU, as requested by ECSU.
The UNC Board of Governors is steadfastly committed to ensuring that ECSU becomes a successful and sustainable regional university that serves all of northeastern North Carolina, said Chairman W. Louis Bissette. "ECSU is an important and essential institution to the University of North Carolina system. I believe Dr. Conway will provide the experienced, stable and innovative leadership ECSU needs and am confident the Board of Governors will fully support his selection as the permanent chancellor. The board is committed to working with Dr. Conway, the ECSU leadership team, and our system partners as we work with the ECSU community, as well as with business and legislative leaders, to ensure the future success of Elizabeth City State University." 
For more information contact:  Joni Worthington, 919-962-2629 or worthj@northcarolina.edu
Monday, December 21, 2015