Kevin Howell, assistant to the chancellor for external affairs at North Carolina State University, has been named to the newly created post of senior vice president for external affairs of the 17-campus University of North Carolina. The appointment, effective July 11, was announced today by UNC President Margaret Spellings.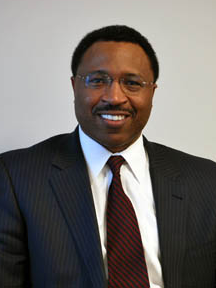 High Resolution Download
Howell will lead a new UNC Division of External Affairs charged with positioning UNC as the nation's leading public university system. In that role, he will serve as a spokesperson for the UNC system, help develop key advocacy and branding strategies, and forge partnerships with external stakeholders, including policy-makers, business leaders, community members, and alumni. As senior vice president, Howell will oversee units spanning communications, state and federal government relations, and international, community and economic engagement.
In announcing Howell's appointment, Spellings said: "Kevin Howell brings a strong track record of leadership experience within UNC and state government, as well as a deep understanding of this state and the complex issues now facing all of higher education. Since graduating from NC State nearly three decades ago, he has devoted most of his professional career to serving the state of North Carolina in one capacity or another. As a native North Carolinian and graduate of two UNC institutions, he understands the UNC system's growing impact on our state's future and will help position us to advance our case to legislators, other state and national leaders, and the citizens we serve."
As assistant to the chancellor for external affairs, Howell has managed the university's legislative relations and served as NC State's key contact to state and local government agencies and elected leaders. In that role, he has worked closely with colleagues at UNC General Administration and throughout the UNC system, as well as legislators and staff to the NC General Assembly. While at NC State, Howell also has served as interim vice chancellor for advancement and interim associate vice chancellor for alumni relations and executive director of the NC State Alumni Association.
Prior to joining the NC State leadership team in 2006, Howell served as legislative liaison for two North Carolina governors, responsible for analyzing and tracking legislative proposals and representing the governor to members of the General Assembly. He also served as director of governmental affairs for the North Carolina Bar Association and as a judicial clerk for the North Carolina Court of Appeals.
A native of Shelby, NC, Howell is a 1988 graduate of NC State, where he earned a degree in political science and served as student body president. He is also a 1992 graduate of the UNC-Chapel Hill School of Law.
Howell currently serves as the chancellor's delegate on the Centennial Authority board. He also serves on the Raleigh Chamber of Commerce Board of Advisors, Greater Raleigh Convention and Visitors Bureau Board of Directors, Raleigh Chamber of Commerce Leadership Roundtable, and NC Symphony Board of Trustees. He is a former member of the State Board of Education and the Triangle Regional Partnership Board of Directors.
Howell and his wife, Aleta, have two daughters.