Partnerships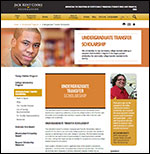 Carolina is among eight colleges and universities to join the Jack Kent Cooke Foundation in a $27 million partnership to help more community college students earn bachelor's degrees from selective four-year institutions. Learn more about the Jack Kent Cooke Foundation.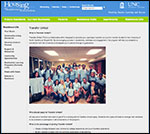 Transfer United (TU) is a collaborative effort to promote a seamless transition for junior transfer student to the University of North Carolina at Chapel Hill. By encouraging success in academics, wellness and engagement, the program helps students establish a connection with the University. Learn more about Transfer United.
In 2006, with the help of the Jack Kent Cooke Foundation, the University of North Carolina at Chapel Hill launched the Carolina Student Transfer Excellence Program, or C-STEP, to enable more community-college students to transfer to and graduate from Carolina. Talented low and moderate income high school and community college students are guaranteed eventual admission to Carolina if they are admitted to and complete the program successfully. Learn more about C-STEP.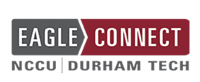 Designed for a select group of first-year students, the Eagle Connect Program is a residential academic transfer program available by invitation only. This partnership between North Carolina Central University (NCCU) and Durham Technical Community College (Durham Tech) includes targeted academic advising, student support services, and a student life component designed to help students succeed in meeting the academic requirements for transferring to NCCU. The program allows students to live on the NCCU campus and to take advantage of many campus resources and activities while they make progress in their intended major during their first and second years at Durham Tech. Upon successful completion of the two-year academic program and the receipt of an Associate in Arts or Associate in Science degree, at Durham Tech, students will be eligible to fully matriculate at NCCU beginning in their junior year. Participants will be required to share academic, financial aid, financial, and disciplinary records between the two institutions. Students will also pursue coursework through Durham Tech and benefit from a variety of support programs and student services offered by both NCCU and Durham Tech.